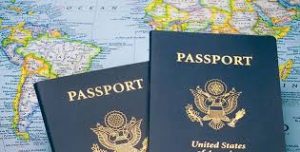 If you are about to renew or get your US Passport the first time, there is what is known as a passport card. Normally, a US passport card is used as a proof that you are a US citizen. This passport card is basically biometric and you cannot use it for air travel. However, it is a handy document to show you are an American. Therefore, you will not need to carry your US passport with you everywhere.
Usually, the US passport card can only be used when you want to get back to the US by sea, land, or rail from Mexico, Bermuda, Canada, and the Caribbean. The size of this passport card is that of a driver's license. As a result, it is more convenient for travelers who cross the border of the specific destinations frequently.
Basically, the US passport card is specifically designed for individuals who frequently cross to the neighboring US countries. Therefore, these cards cannot be used to travel to other countries. You will, therefore, need the standard passport book to enter back into the US from the other foreign countries. Again, even when flying from Canada, Mexico, Bermuda, and the Caribbean, you cannot use the passport card. Instead, you will need a valid US passport book to re-enter the US. Check out this video https://www.youtube.com/watch?v=76jsba098-c about passport.
Normally, the standard US passport fees at USPassportHelpGuide.com are higher than that of a passport card. Therefore, the US passport card is less expensive. If you are applying the passport card for the first time and do not have the traditional passport book, you need to visit a passport application facility physically. You will be required to complete a passport application form, a passport photo, proof you are a US citizen and pay the required fee.
The us passport card will take about 6 to 8 weeks excluding the mailing time. If you have scheduled to travel to the specified destinations, you will need to apply for the passport card a minimum of 10 weeks earlier. That will allow time for unexpected delays. Nevertheless, you can also apply for expedited services. In this case, you will receive the passport card within 2 to 3 weeks. However, you will need to pay an extra fee.
Apart from being less expensive and convenient, the US passport card is also great for non-drivers and children. This is because it offers official identification for such people. Therefore, children too young for official identification cards or driver's licenses or even non-drivers, they have a less expensive way to get an identification document.
Comments