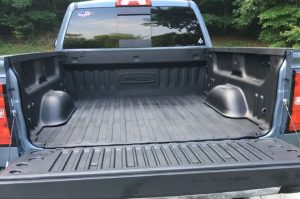 Coating companies are eagerly selling a new product called Polyurea, a type of elastomer (a polymer with elastic properties), as a spray-applied solution to protect various kinds of materials, such as metal, steel, wood, concrete, fibreglass, plastic, rubber, urethane foam, etc. This solution product, as a result of a chemical reaction of an isocyanate compound and a synthetic resin through polymerization, has proven excellent characteristics with respect to strength, durability, impermeability and flexibility. With this kind of combination of quality features, Polyurea is the top choice for coatings, linings and joint sealants. Its plastic-like coating finish guarantees an almost perfect surface protection on basically anything, even in a cold temperature environment.
A tested, proven, and exceptional product, Polyurea coating solution can be recommended on many product applications. As a spray in bedliner, it can be applied as truck bed liner, tank lining, waste water treatment lining, manhole and sewer lining, decorative coating in aquarium lining, railcar lining, automotive linings. As a coating solution, it is highly recommended in refrigeration units, roof coating, flooring and parking decks, water parks and playgrounds, bridge coating. When it comes to being an outstanding sealant product, it can be applied in fuel storage and containment, landscape and water containment, joint fill or caulk, and vented crawl spaces. With such a tremendous show of usefulness in many industrial applications, many clients can benefit from the advantages of using Polyurea coating solution, especially in industries like sanitary, food processing facilities, pharmaceutical, restaurants, groceries or supermarkets, cold storage warehouses, automotive industry, appliance industry, and many more.
The industrial coating manufacturers has given outstanding mark on this Polyurea coating solution because of the following advantages. It does not possess any volatile organic compound and therefore it is a stable compound. It is weather tolerant and can tolerate extreme temperatures. It possesses high resistance to thermal shock. Its coating properties have provided good flexibility on a lot of materials. It is waterproof, resilient, and seamless.
When applied to any type of material, it provides little or no odor at all, so it is safe to breathe in. It is also durable and chemical resistant. To top it all, once coated on a surface material, it can be recycled, cut into pieces, can be moved to a different location or re-installed. Coating with Polyurea solution can definitely add value to any goods due to its excellent protective properties. In oil tanks, using Polyurea coating as a lining coat can help make the tank more resistant to corrosive chemicals, thus extending the tank's life. Watch this video at https://www.youtube.com/watch?v=4f_Pv-WbOFg and know more about spray coating.
Comments