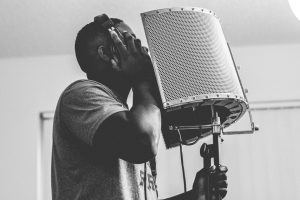 Why take singing lessons? Most people who do it have a good reason, but those reasons vary from person to person. Each individual has different goals in life. For some singing is a hobby, while for others it is a career. I have chosen three of the most common reasons for taking singing lessons and will provide an in depth discussion of each.
Improve your health and well being
Singing can enrich our lives in many ways. Some of these ways include our physical and mental health. That's right: singing can improve our health both for the bocy and the mind. This may come as a surprise to you but it is certainly true and has been proven by many scientific studies of physical and emotional health. Think about it. When people sing they are usually having fun doing it.
Have you ever seen a singer/performer who is out of breath? Of course you have because the body is working many muscles large and small. When you have a voice for singing, it is important that you ensure that it is properly maintained. This requires working out the muscles associated with singing. Have you ever noticed that vocal instructors are also called coaches? That is a clear indication of the physical nature of singing.
When you are an artist, you may need singing lessons in order to improve and maintain your own vocal health. Vocal health is very important especially for a singer since it is very easy for a singer to damage their vocal cords or voice. Singing lessons will  help a singer to exercise properly in this area of the body.
Pursue a career in vocals arts
There are many great careers for singers and taking lessons can help you not only pursue them but find out what exactly they are. A good voice instructor will be able to provide insight and guidance. They can introduce you to many areas of the entertainment industry that you may not have realized even existed. Once you know what careers are available then they can help pursue one or two and train you specifically for those careers. It is exciting to know that there is help available in such a specialized field at a very reasonable cost if you decide to take online singing lessons.
Just to have some fun
The single most common reason to take singing lessons is just to have fun. While taking lessons can be hard work, it is a labor of love. Practicing usually involves singing so even the homework is enjoyable. But even as you are having fun singing will help you to build your confidence. Singing lessons are very important since they will be able to build your confidence and ensure you are comfortable singing in front of other people. With this confidence and lack of fear you will be able to do even more things that involve singing, like choir, karaoke, etc.
This video will give you some idea on voice lessons for beginners: https://youtu.be/i_OaVw78v_8. There are many ways to express yourself vocally and you do not need to decided exactly why you want to sing from day one. Just dive in and start singing and you can figure out the details later.
So, after reading this post have do you understand why you should take singing lessons? These are just a few of the many reasons to do it. Most people understand the benefits but they just need to get motivated. Does that describe you? Well now is the time to jump in and do something that could change your life. Go for it!
Comments