Anti-aging treatments and procedures have increased in number, effectiveness, and delivery methods. Injections tend to be the most common minimally invasive procedure due to the wide variety of options. Gels, liquids, and chemicals can be injected to promote collagen growth, destroy fat cells under the chin and neck, or freeze nerves close to the surface of the skin. Depending on which product is selected, the results can last from three months to two years.
Lasers
Laser treatments are developed to remove hair, scars, and tattoos. They can also be used to contour the body at the hips, waist, thighs, and buttocks. Skin can be tightened with ultrasound technology, called Ultherapy. Fat cells are destroyed with Kybella injections. These options produce gradual results over one to three months.
The benefit to that is the process appears to be natural. A proper diet and exercise can provide the same results but take much more discipline and effort that sitting in the office for cosmetic dermatology that takes less than an hour. The appeal is obvious.
Why Seek Out Board Certified Practitioners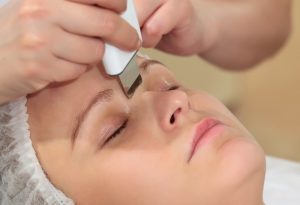 Whether making an appoint for cosmetic purposes or for general dermatology, look for Board certification among qualifications. Qualifying for certification requires meeting above average standards. It also means maintaining standards and continuing with education. There is no guarantee Board certification will be renewed if service, ethics, and capabilities become sub-par.
Do not assume certification. Always ask or research credentials before making an appointment. Skin is sensitive so minimally-invasive treatments and procedures need to be completed with care, competence, sanitary conditions, and safety. Injecting the skin is the wrong place can cause permanent nerve damage, dis-figuration, and infection. Lasers, ultrasound, and electromagnetic tools can burn the skin, cause scarring, and damage internal tissue.
Continued Education
Treatments vary greatly in how they are administered, what areas of the face and body they target, whether multiple areas can be treated at the same time. Botox, for example, does not work the same way as Restylane. Dosing, placement, and results will be different. Be sure the dermatologist places an emphasis in keeping up to date with new products and techniques.
The Latest Trend
The newest procedure available on the market today is an FDA-approved non-invasive treatment to eliminate sweat and odor glands from the underarm area. Marketed under the name of MiraDry, the treatment is permanent. Glands do not regenerate once destroyed. In addition to never having to purchase deodorant again, the treatment drastically reduces hair in the armpits.
Comments