Checkout All the latest videos
through the cheekytek youtube channel
My layout is London themed around Old Oak Common  and Acton during the British Rail Era 1980's – 2001.
Built in OO Gauge (1/76 scale)
DCC Prodigy system
The running stock is mainly Bachmann and Hornby
Click the link to see the layout in all it's true form.
As well as Railway Modelling, and being a YouTube Creator I do like to share my personal hints and tips in each video that hopefully inspire one and all with a passion for building.
click the link below,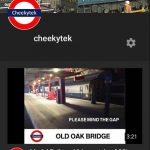 ---
Cheekytek YOUTUBE Wagon Projects