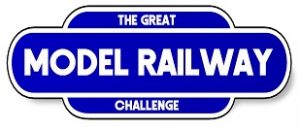 Team captain for The Shunter Guys In association with the
CH5 TV series –   The Great Model Railway Challenge
New to Channel 5 is the Great Model Railway Challenge, this being a new concept TV show that is about Railway Modelling and creativity.
2018 Series 1 – Finished 2018
2019 Series 2 – Live on air September to November 2019
The show has a plethora of judges in a bake off style show to pin point everyone's modelling skills and to see which of the teams will win by creating the ultimate railway layout build within just 24 hours… Yes that's correct and one hell of a task for all involved.
The Shunter Guys.
I was lucky to be part of the series 1 show as the team captain for The Shunter Guys.
Our team was six guys from YouTube from all over the UK and Italy, so getting everyone together for video calls etc, to plan our military operation was super challenging to say the least.
Pictures from November 2018
TV CATCH UP ON  –  MY5
Episode 5    
Waterwo

rld features myself and The Shunter Guys

2019 show can be seen here 

https://www.channel5.com/show/the-great-model-railway-challenge/
Our Journey looking back to 2018.
A clip from September's 2018 issue of the Railway Modeller magazine, featuring our Fred from our Shunter Guys team.

We hit many magazine articles and local publicity highlights other media feeds, for us this was huge as modellers that tinker in our sheds on a weekly basis when time allows.
I know looking back we all feel we were robbed -but it was a competition – so we will naturally say this, even though we are more competitive now as we were back then, even today I still chat and communicate to all the guys as we have a very strong and caring friendship that is testament to what this hobby brings to us all.
So as much as we lost the show – I feel we won the hearts because of the six guys that became one in friendship.
From being on the show what has changed you:
We all feel we have to go the extra mile now though as it seems that everything we do can be done better so I would definitely say this has been a great experience for us all.
Would you take part in the next series.
Funny MMMM, I loved being part of this whole  experience and I most certainly support the show where were needed, but to go through again mmm I'd have to think on that one but I know the shunter guys would love to be back – you will have to see how the future plans out on that one..
Did the water ride survive the show.
Most certainly yes, I was asked by production if the ride would live on – unfortunately the original 15 x 5 foot layout was broken down due to storage. But I have revamped the water ride in to a 4 x 2 foot layout that can be exhibited in shows or hired for public viewing.
The original water ride still runs water and with additional funfair characteristics to set the theme.
A trailer video can be seen on the welcome page.
all pictures are copyright ownership to Garry @cheekytek