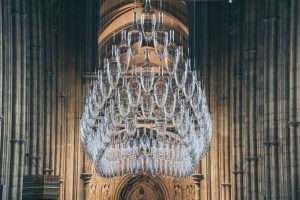 When it comes to making a style statement and adding a touch of magnificence and charm to your home, few additions can hold a candle to a chandelier. Incorporating a chandelier into your décor is the ultimate interior design choice. With an unending and wide repertoire of chandeliers to choose from, it can be a tall order making the right choice. It is vital to note that not just any chandelier can complement your style. So it is prudent to consider the following factors before settling for that elegant looking chandelier that will transform your residence.
You can never underestimate the size of the room when choosing a chandelier. You can buy a chandelier that is all the rage but it will be an exercise in futility if it doesn't match with the room size. If you settle for a large chandelier and the room is small, the décor will be overwhelmed and there will be an overabundance of light. Similarly, installing a small chandelier in a huge room will beat the purpose and supply inadequate lighting.
There are some cases where a magnificent and breath-taking chandelier may look sadly mismatched in your space. Such an instance is when you install a chandelier that doesn't match or complement the existing décor or style of the room. There is a wide array of styles including Victorian, Mediterranean, and Contemporary. It makes sense to try and match the décor to the style that is predominant in your living spaces. This is crucial so as to avoid a fashion faux pas.
Chandeliers come in amazing styles, shapes, and sizes. That said; they also vary in prices. So, when you are buying chandeliers, it is paramount to know your set budget and how much you are willing to spend. What you should know is that the higher your budget, the greater the choices will be. To debunk an unpopular myth; just because you have a small budget, it doesn't mean that you'll get a less stylish or less magnificent chandelier. Buy quality Sofary Lighting accessories or discover more products.
When you are in the market for a chandelier, it is crucial to note that they come in a wide variety of materials. This means that you will be spoilt for choice when choosing. Brass, crystals, metals, and iron are just some of the materials used to design chandeliers. The choice of which material to choose is hinged on a number of factors such as how the chandelier will complement the existing furniture, windows, wallpapers and also your tastes and preferences.
Before you settle on the chandelier that catches your fancy, make sure that you consider long term maintenance issues. It goes without saying that chandeliers will accumulate dust over time. This means that you should have a plan for cleaning regularly. Before buying those intricately designed chandeliers, you should know that they require elaborate cleaning than the typical run of the mill chandeliers. By embracing the above-given chandelier guide, buying a suitable chandelier will be a walk in the park. Continue reading more on this here: https://www.huffpost.com/entry/5-essential-things-to-do_n_9453908.