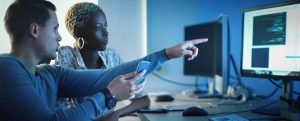 Proper network monitoring is important for successful business operations. To ensure that all business activities run smoothly, you will have to make sure that your network is always in peak condition. A network monitoring software can be of great help when it comes to enhancing network performance. These software programs keep track of the network and detect threats, complications, and malware that might interfere with the network. In this case, with the best network monitoring software, you can be guaranteed that all malfunctions and malware will be addressed immediately. Nowadays, there are different types of network monitoring software programs. Thus, it may be difficult to determine which software suits you best. Outlined below, are tips you can refer to, to ensure that you choose the best software.
Take Scalability into Account
Your business will grow in the course of time. As your business grows, your network needs will change. In this case, as you choose a software program, you will have to consider whether it can handle changes, which might occur as your business grows. It would be best to choose a software program that will accommodate changes efficiently and effectively. Having a software program that can accommodate your needs will be highly beneficial. You will, for example, not have to spend money looking for other software solutions each time your business and network needs change.
Pay Attention to the Features
Network monitoring software programs have varying features. Nevertheless, it would be recommendable to choose a software program that has automated alert features. These features will ensure that your IT experts are notified as soon any malfunction or malware is detected in your network. In addition to automated alert features, it would also be advisable to choose a software program that has in-built auto-discovery features. These features enable network monitoring software programs to automatically scan the network from time to time. Thus, if you happen to add new network components, they will be detected automatically. This will, in turn, save your employees the trouble that comes with manual scanning.
Your Employees' Skill Levels
Network monitoring software programs vary. You will, for example, come across software programs that are advanced and others that are not. It is, therefore, essential to take your employees' skill levels into account before selecting a software program. It would be advisable to choose a software program, which your workers can manage and operate with ease. The software program you choose will affect your company's effectiveness and efficiency. You should, thus, take your time to find a suitable software program. Check out more about SNMP monitoring.
You can find more info at this article:
https://www.encyclopedia.com/economics/encyclopedias-almanacs-transcripts-and-maps/management-service-provider-msp.

Comments