So many couples dream of being able to say they got married in Hawaii, it is unfortunate that more of them do not explore the available options for making that a reality. The cost is lower than expected due to a variety of Hawaii wedding packages. Before settling for a wedding in the local community hall, discover ways to afford a Hawaii wedding.
Something for All Preferences
Couples who want a care-free and traditional wedding on the beach will be thrilled with the Barefoot Beach package. This includes an officiant, a Hawaiian-style ceremony, and live music beginning with conch shell blowing. Leis, a small bouquet for the bride, and one-hour of professional photography makes the experience a Hawaii wedding to remember. The package also includes one-hundred and seventy-five copyright-free images for the couple.
A Five Star Chapel in Sand package is more elaborate for couples who wish to make a big and bold affair of their big day. A pathway of flowers in two colors lead to a wedding arch and four decorated tiki torches on the beach. Eight chairs with sashes and flowers are set out for guests. A deluxe video, a limousine, and a musician are included, along with three-hours of photography. There are packages in between these two extremes as well.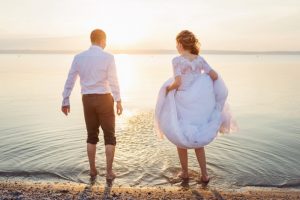 Common Features of All Packages
Regardless of what package is selected, there are options and restrictions that apply. A wedding planner coordinates the officiant, music, flowers, photography, needed paperwork for the marriage certificate, and any customized options that are added to the package. Options range from hula and fire dancers, to wedding cakes to dove releases. Hair and make-up, additional seating, and upgrades in flower arrangements are available as well.
It is important to note that no outside vendors are allowed at the ceremony. Guests can take pictures on their cell phones if they wish but an outside photographer is prohibited, as are outside musicians or service providers. This keeps pricing for packages low enough to fit into most budgets.
Pricing
Each package is offered on a three-tiered pricing plan. There is a price for ceremonies that will be only be attended by the couple for weddings or vow renewals. Another price is available for ceremonies with up to ten guests. The last price tier allows for up to twenty guests to be in attendance. Extras selected are added to these base pricing tiers.
This system makes it easy for couples to decide on the right package and add features that do not break the budget. A wedding in Hawaii is not as expensive as you imagine, so check it out if it has been a dream destination for a wedding ceremony.
Comments