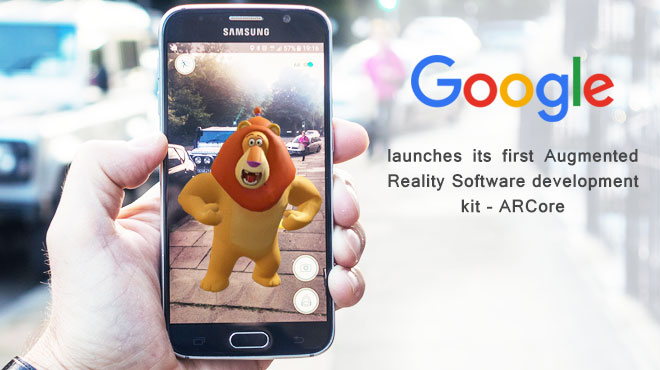 Augmented reality has been a trending technology in recent years and all the major companies are working on it to bring this technology to real world use cases. Apple has already working on this technology and launched development kit ARKit popularised by Pokémon Go game. Now Google has announced its first Augmented Reality software development kit ARCore to keep pace with Apple's ARKit. This shows that the AR war has already started.
"We've been developing the fundamental technologies that power mobile AR over the last three years with Tango, and ARCore is built on that work," engineering exec Dave Burke said in a blog post recently.
Google is experimenting on smartphone AR technology since it first revealed project Tango in 2014. ARCore is being launched on Pixel and Galaxy S8, and the products that are using Android Nougat and above don't require any special hardware. Google plans to have 100 million Android devices supported for Augmented Reality.
The ARCore SDK introduced three new features in its developers' toolkit.
Motion Tracking:
It enables a super fine motion tracking, using sensors in phones and the camera to keep virtual objects displayed in the place.
Environmental Understanding:
It allows phones to detect the size and location. The sensors detect the tables, floors, rugs, and walls, so you can actually place things where they make sense.
Light Estimation:
It allows phone to estimate the current environmental and lightening conditions. ARCore maps and matches the lighting wherever you are, which makes AR objects look like little more real things in the room.
"Fundamentally, ARCore is doing two things: tracking the position of the mobile device as it moves, and building its own understanding of the real world," Google said.  Google has confirmed that moving forward phones with Tango-like depth-sensing capabilities will be branded as ARCore compatible devices.
Since ARCore is in its formation stage, Google isn't concerned about what the future of AR looks like, but it is focussing on giving people the best tools to tinker with as they work out how to best use AR in existing and future apps. Developers who work in unity3d game development companies would have an upper hand in developing ARCore technology compared to others.
Not only Google who is working on this AR Technology, months ago Facebook announced its augmented reality platform AR Studio in its developers conference. Developers already started building fun stuff with Apple's ARKit even before it is being official launched. Microsoft has been working on Hololens that has been bringing Holographic Technology to life from many years.
In a couple of weeks, Apple will release ARKit with iOS 11, and subsequently,  millions of Apple devices will become augmented reality-capable machines, giving developers a sort of new mobile gold rush to find their niche and help them to capitalize on the platform, as Apple CEO Tim Cook" said.
This shows that Augmented Reality is the future of mobile technology and considering this many mobile game development companies has begun to work on Augmented Reality technology to develop AR games for users.
If you are looking to develop featured games with AR features in India or anywhere in the world, FuGenX is the right destination for you. FuGenX is an emerging mobile app development company India and has developed best mobile games that are trending in the app stores today.
Reach FuGenX at info@fugenx.com.
Comments