Pillow boxes are nothing less than a very innovative way of packaging any ordinary product very beautifully. When it comes to retail packaging looks are very important and they are what make a product successful. There are however many other factors that are equally important for product packaging such as easy access to the product inside and product safety etc. Pillow boxes promises to deliver a lot of benefits to the retailers and here are the 5 most highlighted benefits:
1. Lots of Display
Pillow boxes where they are usually made of exceptionally affordable material, these recycled pillow boxes are allowing a lot of product display. Since it is up to the retailer to ask for opening from the top, or the sides, if the packaging opens from the top, it gives a lot of exposure to the product. Apart from that of your product can't have an opening from the top, you can also get display window cut out in the box and its convex shape will enhance the add-on a lot allowing the product to display its full potential. When a product is visible, it has more chances of attracting the buyer rather than a product that doesn't show at all.
2. Easy Excess to the Product
Even though the pillow box looks like something made through a very complicated procedure and people don't usually get the shape at once, finding it very unique, it is surprisingly very easy to open and close a pillow box. You can open it easily, take out the product and use it and close the box easily without ruining it so you can use it over and over again. The product inside is easily accessible and the consumer does not have to go through layers and layers of packaging.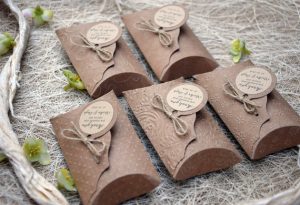 3.  Visually Smaller but Carries Double the Quantity
Again, because of its convex surface if you look at the box from the top, you might feel that the box is small and narrow; you will be surprised to find out how much of product it can hold inside it. The box is believed to carry double the amount of anything that it appears to be able to carry, small appearance make it psychologically very attractive and unique to the buyer.
4.  Takes One pop to Assemble
The pillow boxes are very affordable and they are made easily, they are highly customizable and are not very difficult to assemble. You just need to old it from both sides very lightly while it is still flat and push gently towards the middle and the box pops into its shape. Good quality packaging and packaging with benefits is when you are able to store the packaging easily and get it assembled in a second. The reason why Recycled Pillow Boxes are the most wanted and their need is increasing is because everyone finds them very easy to assemble apart from everything else.
5.  Used For a Variety of Products
Last but not the least, pillow boxes are used across many types of products and they have many uses. They are not restricted to product packaging, their properties and good looks allows people to use them for many purposes such as for gifts and giveaways, wedding and birthday favors, food packaging, soap packaging and so many other purposes. They are one of the very cost effective packaging techniques available out there and they are highly customizable due to their built and welcoming structure. When made with Kraft paper, pillow boxes are lightweight and very sturdy for fragile products and provide safety to them without adding additional weight.
Comments