You've never had French toast like this before…
This fantastic recipe by Peter Gilmore will make an excellent dessert and equally an amazing indulgent breakfast. The custard soaked brioche is the real highlight of this dish and the double-sided caramel coating is just the icing on the cake!
Check out other recipes from Peter Gilmore's recent home entertaining masterclass, organised by Electrolux.
Caramelised vanilla brioche French toast with roasted hazelnuts, maple and double cream
French Toast with Roasted Hazelnuts Recipe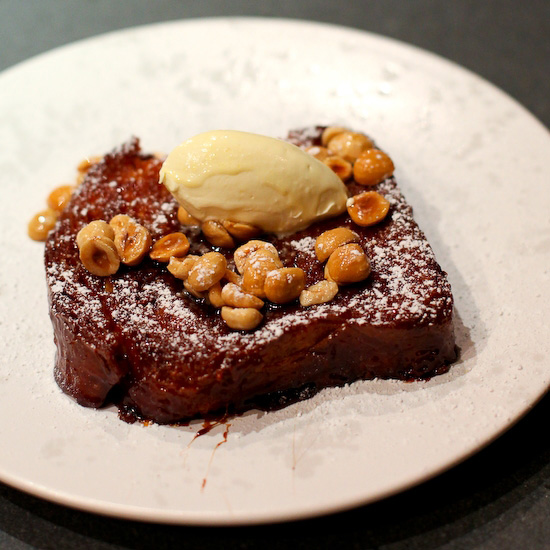 Serves 8 according to http://bllblog.org
1 loaf of brioche
2 vanilla beans
500 mls milk
5 egg yolks
120 gms sugar
250 gms shelled roasted hazelnuts
100 mls top quality maple syrup
Icing sugar
200 mls double cream lightly whipped
200 gms castor sugar for caramel
100 gms unsalted butter
Caramelised French Toast Recipe Instructions
1. Buy or make a loaf of good quality brioche. Cut 8 x 3cm thick slices of brioche. Preheat your steam oven to maximum. Have 8 – 20cm x 20cm squares of silicon paper or glad bake paper pre cut.
2. Split and scrape the two vanilla beans. Place the seeds in a bowl, add the milk, egg yolks and sugar and whisk well. Soak each piece of brioche in the custard mixture fully submerged for 20 seconds.
3. Lift out the soaked brioche and place in the centre of each piece of paper. Wrap the brioche as you would a simple parcel. Place the join side down on a steamer tray and place all the brioche in the steam oven for three minutes on high steam. This will heat the brioche and cook the custard mixture through to give you a warm soft centre. Put the brioche aside and leave wrapped.
4. Add 100 gms of castor sugar each into two large non stick frypans. Place them on the induction top and turn to high. Allow the sugar to caramelise. This is called making a dry caramel. With the induction power it will only take a minute or so to happen. Once the sugar has taken on a deep golden colour add 50 gms of unsalted butter to each pan. Shake the pans around a little and turn the heat down to low.
5. Unwrap the hot brioche and place directly on top of the hot caramel. Allow to cook on the first side for about one minute and then using a spatula of palette knife carefully turn over the brioche and cook on the other side for a further minute. Turn once more and turn the pans off. (You could choose to just deal with one pan at a time and keep the brioche warm while cooking the next batch).
6. Place each piece of caramelised brioche in the centre of each serving plate. Mix the roasted hazelnuts with the maple syrup and dress over the top of each piece of brioche. Sprinkle liberally with icing sugar and serve with double cream on the side.
Comments