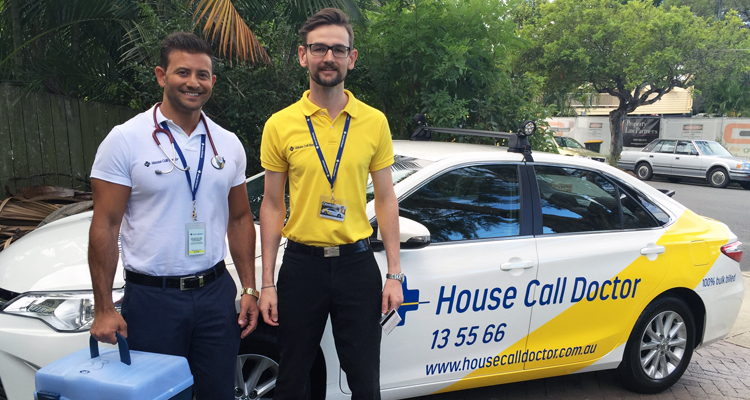 House Call Doctor is committed to providing the best after-hours medical care with a team of home doctors numbering more than 400.
What qualifications does your home doctor have?
To provide its medical deputising services, House Call Doctor is accredited by the Royal Australian College of General Practitioners (RACGP). Our 400-strong team of doctors is fully qualified and registered with the Australian Health Practitioner Regulation Agency (AHPRA) meeting the requirements set by the Medical Board of Australia.
We support our doctors with a Medical Directors panel which oversees all issues of clinical governance.
Who are our home doctors?
Our home doctors come from countries including Canada, Ireland, New Zealand, Singapore, Taiwan, United Kingdom and the United States, and are focused on providing the highest standard of after-hours medical care.
Our doctors have a range of medical specialisations including general practice, emergency medicine, obstetrics, gynaecology, geriatrics and paediatrics. At least 120 of our doctors specialise in general practice.
In our House Call Doctor team, we have 65 fellows. All our House Call Doctor team have a minimum of two years' experience since graduating with the majority of doctors having four or more years' experience.
Life as a home doctor
Dr Ryan Harvey has been part of the House Call Doctor team since 2015 and currently works as our Assistant Medical Director. He provides after-hours medical care as a home doctor and works in a local Brisbane clinic as a General Practitioner. He is highly knowledgeable in paediatrics and has used these skills to provide medical care to children in remote overseas locations.
Our doctors say that visiting patients in their home is a different experience to working as a general practitioner. Many of our doctors are attracted to the flexible work as it can be tailored to fit their lifestyle.
As a home doctor you will see a diverse range of patients which provides valuable experience and makes working as a home doctor very rewarding.
You can join us
We're always on the lookout for new talented team members. As a home doctor, you can enjoy flexible working hours and work/life balance. At House Call Doctor we will provide full support, including administrative help, so you can focus on after-hours care for patients.
Book a doctor
Call us on 13 55 66, download our app or make a booking on our website to request a visit by a home doctor.
Comments